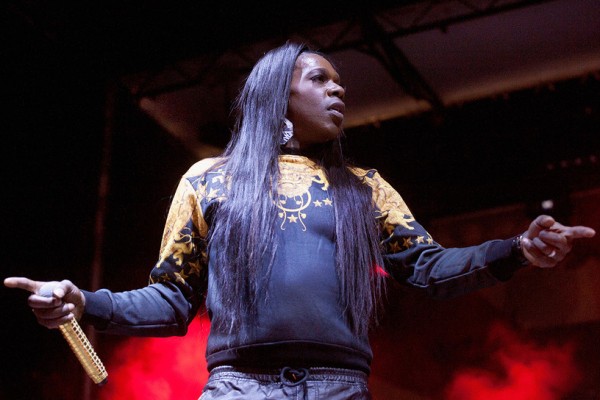 Fuse (www.fuse.tv), the national television network dedicated to music, has today announced Wednesday, February 25 at 11p/10c as the premiere date and time for season three of the highest-rated show in the network's history, the half-hour docu-style series Big Freedia: Queen of Bounce. Season three follows the record-breaking second season, which premiered last summer to more than triple the amount of viewers compared to the season one premiere.
Never short on headlines, Big Freedia is fresh from breaking his own record on November 15th in New Orleans for the Guinness Book of World Records™ largest simultaneous "twerking" event with 406 participants and is undoubtedly one of the "Crescent City's" most famous, larger-than-life personalities. Cameras are invited in each week to experience the unscripted life and surprising twists and turns of this hip hop "bounce" icon. Drama, romance, the stresses of a nationwide tour and coping with the loss of his mother are a few of the themes featured in the upcoming season.
"At my live concerts so many young kids come up to me and say their mom or grandmother told them about the show," said Freedia. "I hope the audience for this Fuse show reflects the same diversity and enthusiasm of those audiences – from black to white, gay to straight, and young to old!"
"Big Freedia is that rare artist whose real life brings reality back to its roots," said executive producer Fenton Bailey. "And Fuse is the network brave enough to show us the way it is; real, raw and revealing."
During production breaks, Big Freedia will continue touring stateside and internationally.
The second season of Big Freedia premiered at 11 p.m. on June 11, 2014 more than tripling viewership among P18-34 viewers (+223 percent) while growing its audience among Total Viewers (+68 percent), compared with the October 2, 2013 season one premiere. The ratings growth continued throughout the second season with substantial growth from season one, averaging +74 percent more Total Viewers and +192 percent more P18-34 viewers.
Source: Nielsen, Live+3, premiere episodes from season two (6/11-7/30/14). Season 1 = 10/02-11/20/13.
Big Freedia: Queen of Bounce is executive produced by Fenton Bailey, Randy Barbato, Chris McKim and Tom Campbell of World of Wonder (RuPaul's Drag Race, Million Dollar Listing, Life with La Toya).
About Fuse
Fuse (www.fuse.tv),the national television network dedicated to music, brings viewers closer to their favorite artists and bands by featuring original series and specials, news, exclusive interviews, live concerts and video blocks – all rooted in the music experience. Celebrating the hit makers of today, familiar favorites and edgy newcomers, Fuse accommodates the wide ranging tastes and attitudes of its 18-34 year-old audience with compelling music programming on-air, on-line, on-demand, in HD and via mobile technologies. As of July 2014, Fuse is part of SíTV Media, Inc., which also includes NUVOtv.
About World of Wonder
Innovative production company World of Wonder is behind such entertaining hit series as RuPaul's Drag Race (Logo), Million Dollar Listing (Bravo), #CandidlyNicole (Vh1), Big Freedia (Fuse), Life With La Toya (OWN), and Island Hunters (HGTV). RuPaul's Drag Race (Logo) won the 2014 TCA Award for Outstanding Achievement in Reality Programming. Big Freedia (Fuse) won the 2014 GLAAD Media Award for Outstanding Reality Program, and Million Dollar Listing NY (Bravo) was a 2014 Emmy® Award nominee for Outstanding Unstructured Reality Program. World of Wonder has also created award-winning films and documentaries such as Inside Deep Throat, The Eyes of Tammy Faye, Wishful Drinking, Monica in Black and White, and The Last Beekeeper, which won an Emmy® Award for Outstanding Nature Programming. Seven of their films have premiered at the Sundance Film festival including Becoming Chaz and Party Monster, the documentary and feature film starring Macaulay Culkin. Their most recent feature I Am Britney Jean (E!) offers an intimate look at Britney Spears' journey into residency in Las Vegas. World of Wonder has created a substantial digital footprint with its YouTube channel WOWPresents, along with an award-winning blog, The WOW Report. Co-founders Randy Barbato and Fenton Bailey authored The World According to Wonder, celebrating 21 years of production, which can be found online at http://worldofwonder.net/. Randy and Fenton will be honored with the IDA Pioneer Award in December 2014, celebrating exceptional achievement, leadership, and vision in the nonfiction and documentary community.