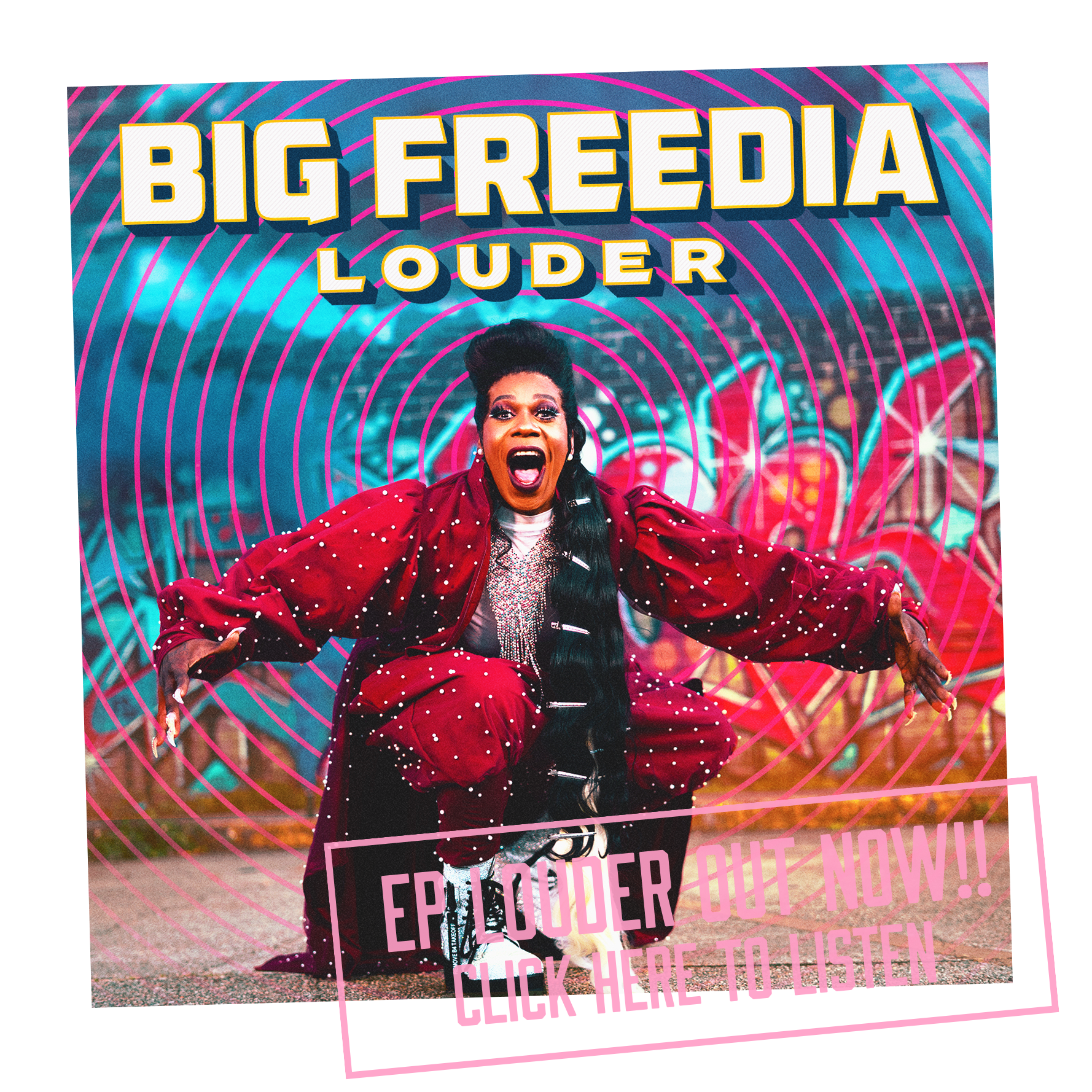 Big Freedia is ready to crank the volume up even higher. The New Orleans native, also known to the world as the Queen of Bounce, has spent the better part of the past two decades introducing the aerobic, ceaseless strain of booty-popping music to the listening public, both as a solo artist whose live shows leave attendees breathless and an uncredited guest vocalist on titanic hits including Beyoncé's "Formation" and Drake's "Nice For What."
But in 2020, Freedia is stepping out front and center, edging ever-closer to making her presence more established in the mainstream with the Louder EP, releasing on March 13 via East West Records. "I want to keep taking Bounce to the masses and make it go as far as it can go," explains Freedia. "And us not being a genre that's on the charts or recognized in the music industry as other music, I still have to work hard to get Bounce to what it needs to become. I want to be able to reach people everywhere, so people will know who Big Freedia is no matter what."
The Louder EP, which marks her first release since 2018's frenetic 3rd Ward Bounce, attempts to do just that, balancing the sweaty pace of Bounce and coating it in a pop sheen. Brassy lead single "Louder" featuring Icona Pop sets the tone, powered by a sample of Snap!'s classic hip-house anthem "The Power," while cuts like dizzying "She Tipsy" and sassy "GTFOMF" featuring Lil Aaron and Boyfriend channel the crackling intensity of her on-stage energy. But there are moments of introspection, too. On standout "Chasing Rainbows," Freedia reunites with superstar Kesha for a spiritual companion piece to last year's "Raising Hell," which they performed on Jimmy Kimmel Live!, the American Music Awards, and The Late Show with Stephen Colbert.
"Chasing Rainbows" serves as a mission statement for the project at large, celebrating the idea of embracing who you are in the face of adversity. "It still has Bounce in it, but the message for it is very powerful and strong, just people chasing their dreams and goals," says Freedia. "And whatever the color of your rainbow may be—black, white, gay, straight—we want people to get out there and live their best life, keep chasing their dreams and their goals, and just live their best life every day."
The song precedes Kesha's upcoming The High Road Tour with Freedia, snaking across North America this summer, and marks the latest in a long line of milestones for one of Bounce music's pioneers. Since her days growing up in New Orleans' 3rd Ward, shaping her musical identity as a choir member, Freedia has steadily become one of NoLa's most prominent voices, dropping a handful of EPs and critically acclaimed 2014 album Just Be Free. But she's also become an unstoppable force on the live circuit, gracing the stage at events including Essence Festival, Sasquatch! Music Festival and Outside Lands Music & Arts Festival, and has grown as an in-demand collaborator on tracks from Diplo, Sia and Dillon Francis.
Beyond the music hustle, Freedia has dug her roots into television with Fuse TV's Big Freedia Bounces Back, the network's highest rated original series that ran for six seasons. And in addition to releasing her memoir Big Freedia: God Save the Queen Diva! via Gallery Books/Simon & Schuster in July 2015, Freedia has been releasing music through her own imprint, Queen Diva, with hopes of expanding the roster in the foreseeable future.
But for now, Freedia is focused on leaving a much larger impact on mainstream music, shining a spotlight on her native New Orleans while bringing one of its flagship sounds to further corners of the world. "I feel like I'm in the prime of my career and still have so much room to grow and to keep accomplishing things," she says. "I have had longevity, I have been in the game for 20 years now, and I'm just super excited about where things are going and each year I keep taking it to another level. I think in 2020, my level is going to rise up even more."