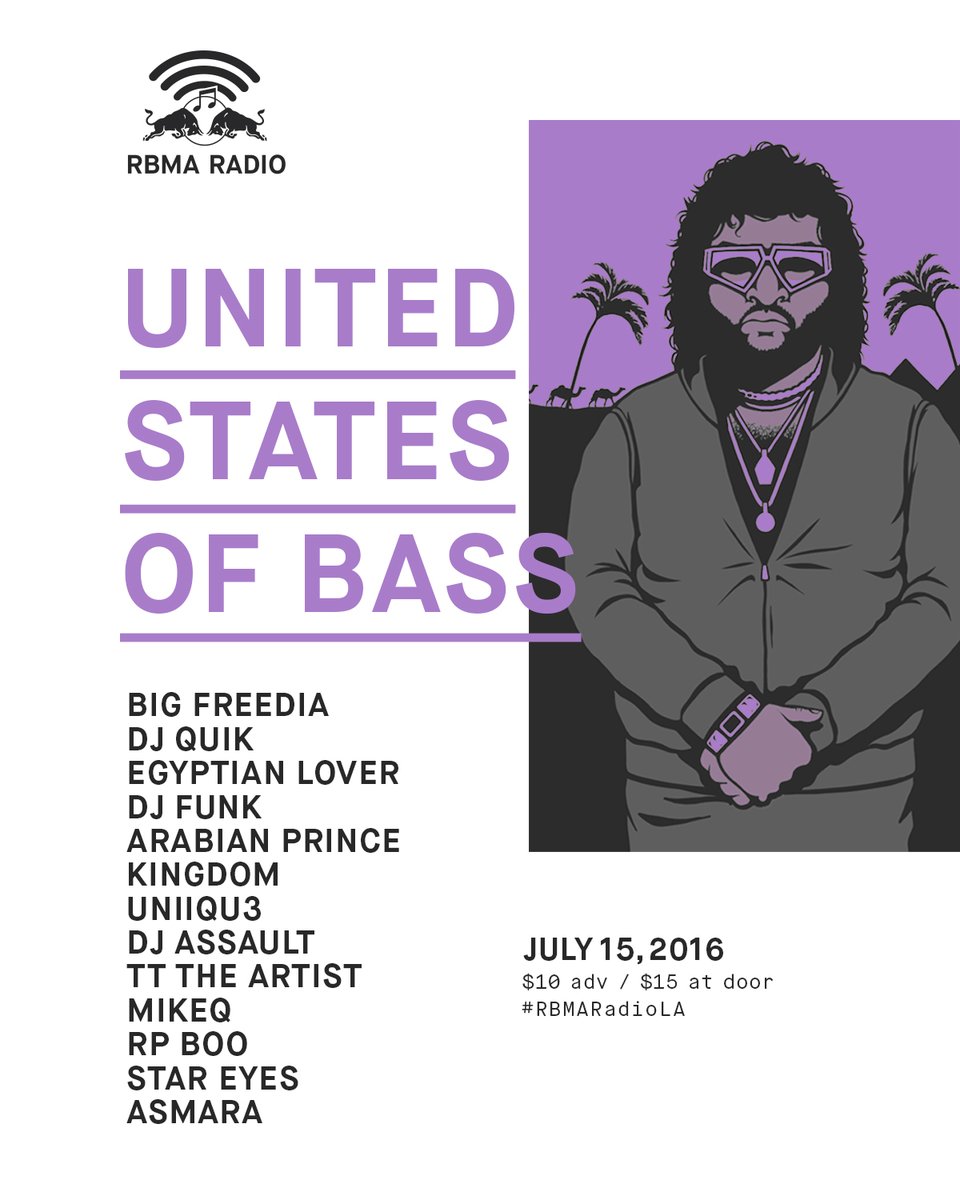 4067 West Pico Boulevard Los Angeles, CA 90019
DJ Quik, Big Freedia, Egyptian Lover, Arabian Prince, DJ Funk, DJ Assault, RP Boo, MikeQ, Uniique, TT The Artist, Kingdom, Asmara, Star Eyes
FROM www.redbullmusicacademy.com
To celebrate RBMA Radio's re-launch, we're broadcasting live from Los Angeles for two weeks, with original shows from a global contingent of artists, producers, record labels and journalists. We will be coming to you direct from a custom-built studio in Downtown Los Angeles' Arts District, with programming that dives into the city's diverse musical landscape with live interviews, DJ mixes and special performances, plus LA-focused episodes of current programs.
A few of the Los Angeles-focused programs that RBMA Radio listeners can look forward to include a daily show featuring interviews and music from Southern California's lo-fi, psych & garage rock bands and labels; a week-long series of Counter Intelligenceepisodes bringing listeners the stories of some of LA's favorite record stores; and RBMA Radio Anchor and Dublab founder Frosty presents his LAndscape show live featuring interviews, field recordings, and live performances that explore the city's role in music past, present and future. The live broadcasts start on July 11. For a full schedule of radio programming, head to rbmaradio.com.
During the pop-up, we are hosting four events. On July 15, United States of Bass will shine a spotlight on generations of LA bass; La Transición pays tribute to electronic music producers originating from Mexico City, Los Angeles and beyond on July 16; and, on July 20, the prolific, confounding and often brilliant crew PC Music will bring their sound and aesthetic to life in a way that you've never seen before. The event series as a whole kicks off on Monday, July 11 with a public conversation with acclaimed filmmaker Gaspar Noé, discussing how music has acted as inspiration and influence in films, including his own.